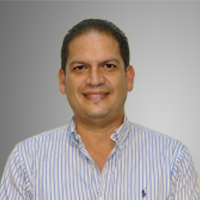 Position:
Profesor Tiempo Completo Principal 3
E-mail:
bramos@fiec.espol.edu.ec , bramos@espol.edu.ec
Áreas de Investigación:
Internet of Things
Software Defined Radio
System Dynamics
Telecom Planning and Regulation
Wireless Communications
Participación en Comités Técnicos:
President of the Technical Committee of Jornadas de Sistemas de Telecomunicaciones 2007
Tutorial Director IEEE LATINCOM 2012.
Reviewer Telecommunications Policy Journal 2010
Reviewer International System Dynamics Conference 2006-2020.
Reviewer Africa Research Journal (ARJ) of the South African Institute of Electrical Engineers (SAIEE) 2018
Reviewer International Conference on Electronics and Communications Engineering (ICECE 2019).
Reviewer European Conference on Antennas and Propagation (EUCAP 2020).
Reviewer Digital Policy, Regulation and Governance Journal 2020.
Reviewer Jornadas Iberoamericanas de Innovación Educativa en el Ámbito de las TIC (INNOEDUCATIC) 2016-2020.
Reviewer Ecuadorian Technical Chapter Meeting 2017-2018.
Reviewer LANC 2011, 6th IFIP/ACM Latin America Networking Conference.
Reviewer Revista Tecnológica de la ESPOL 2005-2011
Reviewer Jornadas de Sistemas de Telecomunicaciones 2007, 2008, y 2009